First of all we wish you a very happy new year 2022.
In this 2022 newsletter, we will tell you about :
the release of the book on surrogacy in English
surrogacy as seen from Latin America
the Verona Principles that ICASM is fighting
and we will invite you to a webinar organised by PDF Quebec
THE BOOK ON SURROGACY IS NOW AVAILABLE (SPINIFEX)
Here is the English version of the book on surrogacy to be ordered from SPINIFEX, an Australian publishing house, who believed in this project and helped us enormously to bring it to life.
To order it click <here> 
The expanded French version, with 27 contributions, will be released in the first half of 2022.
The Spanish version,  will be issued at the end of the year.
LATIN AMERICA: FIGHTING THE SURROGACY TREND
Thanks to our Board member Liliana Forrero of Iniciativa pro Equalidad, Colombia, we had a meeting with one of the members of the Inter-American Court of Human Rights to adiscuss<<abolitionist ideas.
These two maps show the parallel between abortion (on the left), which is generally repressed, and surrogacy (on the right), which is on the rise. In 5 countries there are legistaltive attemps to open up to surrogacy .  A very sad picture of women's rights  in those societies.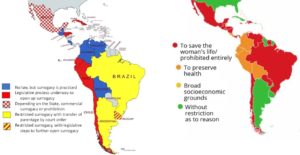 NB. Update: In Mexico, since September 2021, abortion has been decriminalised https://www.pbs.org/newshour/health/mexican-abortion-advocates-look-to-help-women-in-u-s
VERONA PRINCIPLES 
New attempt to regulate surrogacy rather than abolish it
With the same strategy as the Hague Conference, the Verona Principles, published by the international NGO ISS (International Social Service) are a new attempt to regulate surrogacy at the international level for the benefit of the market.
ICASM opposes this new attempt.
Feminist critical analysis available at:http://abolition-ms.org/en/our-actions/critical-document-on-the-verona-principles/
TO TALK ABOUT SURROGACY, JOIN US ON 21 JANUARY (in French)
Friday, January 21, 2022
 1:30 pm in Quebec, 7:30 pm in France
French feminist activists join PDF Quebec to present the issue of surrogacy. Clémence Trilling, from the surrogacy committee, will present the issues at stake in Bill 2 (PL 2), submitted in the fall of 2021 to reform family law and regulate the use of surrogate mothers in Quebec.
In order to situate the issues at stake in the regulation of surrogacy that the government wants to impose, PDF Quebec's presentation on 21 January will be complemented by those of two founders of ICASM (International Coalition for the Abolition of Surrogacy). Marie-Josèphe Devillers will give us a portrait of the international situation and Ana-Luana Stoicea-Deram will talk about the dangers of surrogacy for the health and lives of surrogate mothers.
Clémence Trilling, lead author of PDF Quebec's brief on PL 2 (Quebec), will demonstrate the extent to which this bill could open a dangerous breach in the commodification of women and children. Indeed, free surrogacy is a lure in Canada, a country that has become the number one destination for international reproductive tourism: an international surrogacy industry is about to arrive in Quebec as soon as Bill 2 is adopted.
Registration will be required to attend this webinar, especially as it will be open internationally and the information will be sent to over 3,000 people.
Places are limited: you can register by clicking <here>
As soon as you register, you will receive a confirmation email with instructions on how to join the webinar.

_________________